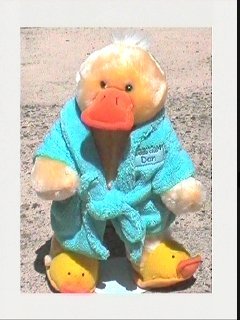 Like all bloggers I am an attention seeker at heart. Unfortunately I am not a patient attention seeker. After three weeks of writing a blog, I haven't received nearly as much attention as I would like and that is where Dan comes in.
Dan, as you can see is a duck. He is a duck who belongs to my four year old daughter Zoe and he is her favourite toy.
Right now, Zoe thinks she has lost Dan. She hasn't. I have kidnapped him and he is going to to die the death of a thousand cuts.
Every day Dan is going to receive a horrible wound or disfigurement, unless I have had more than 100 visitors to my blog that day, or a new inbound link. I will return Dan, or what is left of him, to Zoe at the end of August.
The highest number of visitors I have received in a day so far is 84 and the lowest number is 0, so I reckon Dan has a slow and painful death in store.
Only you can save him.